Singapore, a thriving hub of technological advancements, is set to host the 42nd edition of World AI Show, organised by Trescon. This premier event is renowned for highlighting the latest trends and innovations in enterprise AI solutions, catering specifically to IT Heads and business leaders from enterprises and governments in the APAC region. With a focus on driving collaboration and fostering knowledge exchange, World AI Show – Singapore promises to unveil the future of AI and its various applications.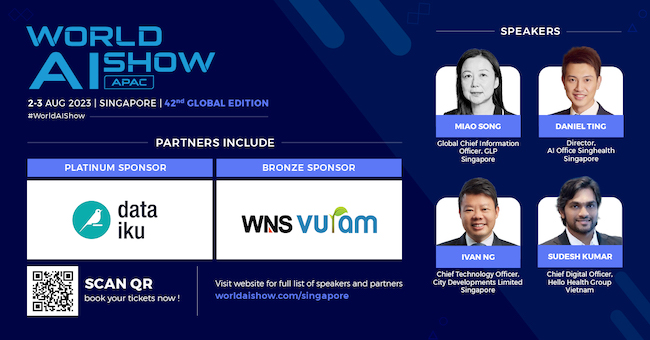 World AI Show – Singapore will serve as a platform for global thought leaders, industry experts, AI enthusiasts and innovators to converge, share insights, and explore cutting-edge AI solutions. Attendees will gain invaluable knowledge through keynote presentations, enterprise use-case discussions, panel sessions, and interactive tech talks. The event will also facilitate business networking opportunities, enabling participants to connect with like-minded professionals and forge partnerships to accelerate AI adoption within their organisations.
The 42nd edition of this prestigious event taking place in Singapore solidifies its position as a global gathering of AI experts, government officials, and industry leaders. The event will feature thought-provoking discussions on the latest trends, challenges, and opportunities in AI, providing attendees with actionable strategies and valuable insights. The exhibition floor will showcase the most innovative AI solutions and technologies, allowing participants to experience first-hand the transformative power of AI across diverse industries.
Naveen Bharadwaj, Group CEO of Trescon, expressed his enthusiasm for the upcoming event, stating, "World AI Show is a unique platform that brings together global AI experts, government officials, and industry leaders to shape the future of AI. Singapore's vibrant tech ecosystem and strategic location in the heart of APAC make it an ideal host for our 42nd edition. We are excited to witness ground-breaking discussions and witness the transformative potential of AI in enterprise solutions."
Notable speakers attending the event include:
Miao Song, Global Chief Information Officer, GLP

Daniel Ting, Director, AI Office SingHealth

Ivan Ng, Chief Technology Officer, City Developments Limited

Sudesh Kumar, Chief Digital Officer, Hello Health Group

Nirupam SD, Senior Scientist, Head of IoT and Artificial Intelligence Energy Research Institute at NTU, The Nanyang Technological University
One of the key speakers at the show Miao Song, Global Chief Information Officer, GLP, said, "AI is the most promising yet controversial technology in this modern world. Adopting AI in the right way will only help us to grow our businesses and create a positive impact on humankind. I look forward to sharing best practices and take part in in-depth discussions in the upcoming World AI Show in Singapore."
Sudesh Kumar, Chief Digital Officer, Hello Health expressed his excitement about the show saying, "Witness the future at World AI Show, where global innovators unite to unveil ground-breaking advancements, fostering a world where artificial intelligence transcends human potential and creates limitless possibilities."
The 42nd global edition of the World AI Show is supported by:
Aliriza Abdul Gafoor, Chairman and CEO at Aliriza group quoted, "Aliriza Group aims to accelerate AI innovation and adoption in Singapore, contributing to the National AI Strategy and reinforcing Singapore's global AI hub status through our participation in the World AI Show"
Mark your calendars for 2-3 August 2023 and join the brightest minds in the AI community at the Marina Bay Sands Expo and Convention Centre in Singapore. Experience the forefront of AI innovation, gain actionable insights, and forge strategic partnerships at the 42nd edition of World AI Show. For more information and registration, visit www.worldaishow.com.
About Trescon
Trescon is a pioneering force in the global business events and services sector, driving the adoption of emerging technologies while promoting sustainability and inclusive leadership.
In line with their vision to foster a future driven by emerging technologies, you are invited to join these upcoming events by Trescon:
World Fintech Show at Jakarta and Kingdom of Saudi Arabia

World CX Summit at Singapore and Manila

World Cloud Show at Manila

World AI Show at Kingdom of Saudi Arabia

World Blockchain Summit at Singapore and Dubai

World Cloud Show at Jakarta
Trescon is glad to announce a new mega tech show called Digital Acceleration and Transformation Expo (DATE) scheduled to take place in Delhi in November 2023 and Jakarta in 2024.
For more information, visit: https://bit.ly/43OzEpy
Nupur Aswani
Head – Media, PR and Corporate Communications,
Trescon
+91 95559 15156 | media@tresconglobal.com